How Government bailout programme ruined Kenya's farmers
By Dominic Omondi and Otiato Guguyu
They were sharp and strategising. Their business acumen was unrivalled and they could do anything to win deals they smelled. Their deal-cutting remained unmatched.
And When President Uhuru Kenyatta decided to use the subsidy programme to deal with the 2016 drought, manage price escalations and re-engineer his political campaigns, the cartels were watering their mouths plotting one of the country's biggest heists.
Against all advice by economists that such a move must be guarded against exploitation, the President gave a free hand to deep-pocketed business honchos seeking to make a quick buck without paying their fair share of taxes.
These cartels brought in maize, milk and sugar en masse.
Economists warned that the Government would lose on taxes and hurt local producers due to a glut and fuel corruption. They were not wrong.
"Middlemen will still profit from the intervention and if the Government really wanted to help the poor, they would identify the vulnerable and give them food vouchers," Institute of Economic Affairs Chief Executive Kwame Owino said.
Four months after the subsidy programme came to an end, the public is now being served a series of scandals that can be traced back to this defective policy decision.
Locally-produced sugar and maize were crowded out by the unprecedented entry of cheap imports, kicking up a storm in their respective industries. It is only a matter of time before the milk sector 'hurricane' also erupts.
National Treasury Cabinet Secretary Henry Rotich's subsidy programme in which Kenya's borders were flung open for unfettered entry of cheap maize, sugar and milk might have calmed the nerves of consumers and in effect helped avert a political tide that threatened Uhuru's re-election bid.
Designed to fail
But what offered consumers temporary relief and the President some political expediency might have left irreparable damage on the country's economy, ruining the future of millions of Kenyan farmers whose livelihoods are propped by the three key commodities.
A poorly structured import subsidy - one that some experts believe was designed to fail - saw the Kenyan market flooded with cheap maize from Mexico and South Africa; sugar from India, Brazil, Mauritius, Zambia and Uganda; and milk powder from Uganda and Netherlands.
This was as opportunists exploited the flaws in the programme to pocket billions of taxpayers' cash and consign local farmers into misery.
More imports of the three commodities left a hole in the country's foreign currency reserves as more dollars left Kenya than were replaced by export earnings.
This saw the country's current account deficit - the difference between the value of total imports and exports - widen by a staggering 38.3 per cent to Sh518.9 billion in 2017 from Sh375.3 billion the year before.
A 2.7 per cent increase in the value of exports paled in comparison to 21.5 per cent increase in imports, which stood at Sh1.6 trillion.
Thanks to the desperate imports of these foodstuffs, the country found itself at the mercy of foreign investors as the balance of payments deteriorated.
The investors could, if they felt threatened, remove their money causing a big fall in the value of the country's currency and leading to a decline in living standards and lower confidence for investment.
In total, the total import bill for maize, milk and sugar stood at Sh107 billion, four times what was imported in 2016, with imports valued at Sh26.6 billion.
Customs duty
In total, the Kenya Revenue Authority (KRA) has fallen short of Sh84 billion in the first four months of the 2017/18 (July- May 2018) fiscal year due to fall in customs duty after the Government allowed importation of sugar, maize and milk for free to cushion consumers against a sharp rise in inflation.
The decision to extend the subsidy programme all the way to December could have meant that importers made a bigger killing, especially since they had more time to make orders.
So even as consumers enjoyed cheap unga, and prices of milk and sugar moderated, the Government will struggle to meet its budgetary allocations and might be forced to suspend certain projects or borrow more to plug the deficit.
As the country grappled with a crippling drought which depressed harvests of almost all crops, production of sugar, maize and milk dipped.
Their prices went through the roof.
The Government reacted by removing 50 per cent import duty on sugar, maize and milk.
Farmers are now enraged.
They are caught in a tragic policy contradiction. Whether it is during drought or a bumper harvest, their life remains unmitigated.
In both situations, they remain at the receiving end.
If there is no harvest they are left to fend for themselves and if there is excess of it, they can not get proper prices for it.
They are forced to trudge on the double-edged sword and there is no escaping, perhaps except taking shelter in flight.
Never before had the farming community been placed in such a deplorable predicament as they are in now, thanks to the Uhuru government's subsidy call that ruined their means of support resulting from the market glut.
However, in virtually all the three commodities, the Government never put quotas on the quantity of the product that was to be imported or was just never serious in ensuring that importers brought only what was needed.
Not only did rogue importers bring in extra imports, the mad rush saw sub-standard products make their way into the country.
The fact is that more than enough sugar found its way into the market. While sugar production in the country declined by 41 per cent in 2017, the quantity of cheap imports to plug the deficit rose by a staggering 196 per cent.
Colossal profits
Most of the imports came from outside Comesa and East African Community.
Non-Comesa sugar, which may come from as far as Brazil, may have enabled the businesses make even more profits since a tonne retailed at Sh36,290 in Brazil against the then prevailing market price of Sh146,000 in Kenya.
Sugar production declined from 639,700 tonnes in 2016 to 376,100 tonnes in 2017. However, imports rose from 334,100 tonnes to 989,600 in 2017.
So bad were things that in 90 days, Sh40 billion worth of sugar had been brought in by more than 100 importers.
This meant the KRA lost a whopping Sh20 billion in taxes, after Treasury scrapped the 50 per cent import duty.
What these greedy importers brought in three months last year was almost twice what the country imported in 12 months in 2016.
In 2016, the country spent about Sh22 billion to bring in raw sugar from India, Brazil and Mauritius.
In 2017, expenditure on sugar imports alone was estimated at Sh61.5 billion.
First deadline
An investigation by The Standard found that by the end of the first deadline, more than 400,000 tonnes of sugar had been brought into the country.
Almost any company imported sugar including stationery firms, clearing agents and transporters.
Sugar was also transported with clinker, a situation that might have resulted in the contamination of the sugar.
On the list of importers included China Road and Bridge Corporation, which is building the railway, Menengai Oil Refineries, an edible oils and soaps firm associated with the Rai family as well as Hydery (P) Ltd based in Mombasa.
Other big importers included Amnav Ltd, Arasan Traders, Awwal Oil Company, YH Wholesalers, Coast Terminal East Africa, Convex Commodity Merchantand Flora Bakers.
As a result, more than 50,000 people who are directly involved in the entire chain of sugar production - from growing sugarcane to manufacture of the sweetener - are under threat.
The economy of the entire sugar belt region in Western and Nyanza regions might never get to recover as a result of this import subsidy programme.
And things are not different with maize.
According to official figures, between April and December 2017 - the period when the maize subsidy programme was implemented - some 15 million bags of maize valued at Sh39.6 billion were imported, taking up all the space in the 39 National Cereals and Produce Board (NCPB) depots around the country.
The nine-fold uptick was unprecedented.
Timothy Njagi, a research fellow at Tegemeo Institute, an agricultural policy think-tank affiliated to Egerton University, said the current NCPB structure "creates a huge incentive for corruption."
Maize production
He said because the Government is always giving a price that is higher than the market price, it creates a situation where everyone wants to cash-in, including those who are not farmers.
This is despite maize production in the country declining by only 2.4 million bags, a shortfall of five million bags the Ministry of Agriculture had projected when it launched the import subsidy programme.
Kenya Dairy Board Managing Director Margaret Kibogy told Financial Standard last year that the importation of milk powder was left to the private sector and that the Government did not know the price per tonne but each firm applied for a percentage.
When asked how, she said that about 6,000 tonnes of milk powder were imported last year against a quota of 9,000 tonnes that they were given.
However, numbers from Kenya National Bureau of Statistics show that imports of milk stood at 69,533 tonnes in 2017, up from 17,774 tonnes in 2016.
The country spent Sh5.4 billion to import milk in 2017 - five times more than what it spent in 2016.
Most of the milk and milk products last year came from Uganda, a situation that saw imports more than double from Sh19.3 billion in 2016 to Sh42 billion in 2017, according to KNBS.
Dr Njagi said the problem in the milk market is dominance by two processors that hold over 80 per cent of the market.
The farmer is basically a price taker. For importation, only two major players had access to the milk including State-owned New KCC and Brookside Dairy.
In France, powder milk was trading at Sh200,000 per tonne.
Attract corruption
Mr Owino of IEA said that in case of shortage of maize, sugar or rice, the Government establishes an administrative system, giving licences to certain importers. "That process will attract corruption because these are products that are in high demand in the country," he said.
"So what happens if you are controlling the number of people who can get licences? Any person who can hold a licence technically can earn a share in the billions of shillings the licence can generate."
Experts say the design of the import licensing mechanism needs to be fixed as "it has become very attractive for corrupt people."
Njagi said that perhaps the Government did not have enough time to think through the design of the import subsidy.
"Subsidy was given to people who do not need it," he said.
"People were enjoying low prices because the taxpayer was paying the difference. Once the subsidy ended, there was upward pressure," said Njagi.
The huge stocks may now come back to haunt farmers who will find the market swamped by readily available imported maize, sugar and milk that is relatively cheaper.
Latest Posts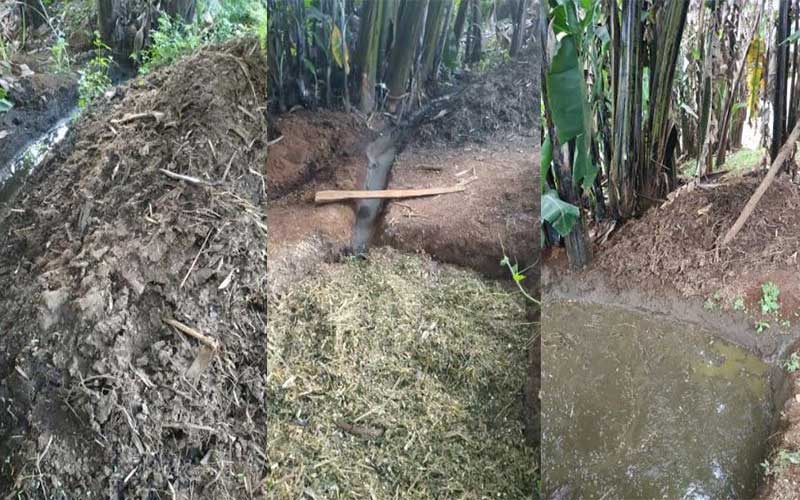 Joyce Nyakio preparing her compost manure.
Related Post