Dairy farmers decry cheating in private AI service providers
By CLIFFORD GIKUNDA

Dairy farmers in Meru County are now calling on the county government to harmonize and regulate the artificial insemination (AI) services to improve dairy breeds and increase milk production.
The farmers, responding to a survey being carried out by the county government expressed their displeasure with private players in the dairy insemination sub-sector who promise but deliver different results.
"At one time I called in a vet and gave him clear instructions that I needed a Friesian calf to be inseminated into my cow. Nine months later, the calf that was born had a hump meaning it's was a Zebu or a traditional African breed," said Kaguta Samson.
"Since then, it has been very hard for me to trust the vets. Instead, I prefer to use good bulls," Kaguta added.
Kabuuru Muugu, a dairy farmer too expressed his lack of trust of the vets who serve dairy cows in the county. "Who regulates the semen they serve our cows? Where can we make complaints in case our cows are served with semen that we don't like or had not requested for?"
"In yesteryear, there was insemination services from the Kenyan government. A vet who would do the AI would drive by our village every morning by 9 am. We had booklets with history of the cow being served and the calf served. This was very good because the dairy industry then grew well," Muugu said.
"There were also working cattle dips where we took our animals for dipping every Thursday of the week. So our cows were tick and fleas free. Now this task has been left to farmers but unfortunately, some never do spray their animals at all leading to ticks' infestation in the villages," Muugu told the MT. KENYA STAR.
Gichuru Jonathan, a resident of Mwanika in Abothuguchi West said there had been another similar survey whose results were not implemented.
"I am sure everything about the survey report is with the county agriculture office. I would like to urge Governor Kiraitu Murungi and his people to go check on that survey then implement our recommendations," Gichuru said.
Latest Posts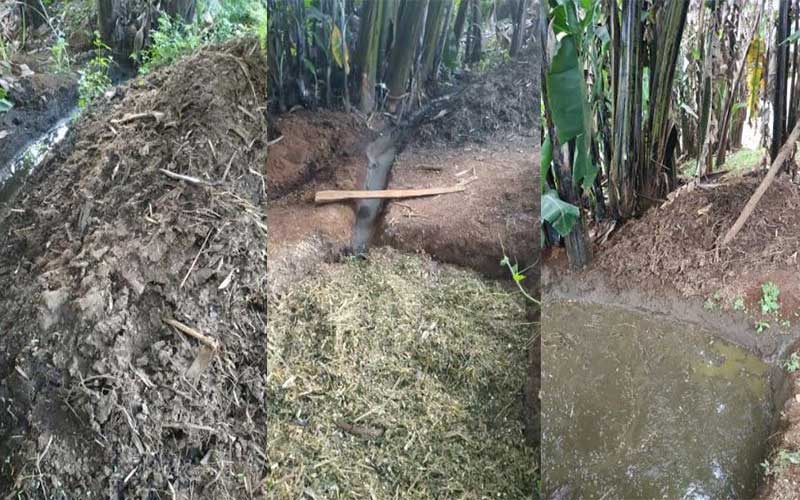 Joyce Nyakio preparing her compost manure.
Related Post