Farmers demand for change in low milk price
By KAMAU NJOROGE and KAMUNDIA MURIITHI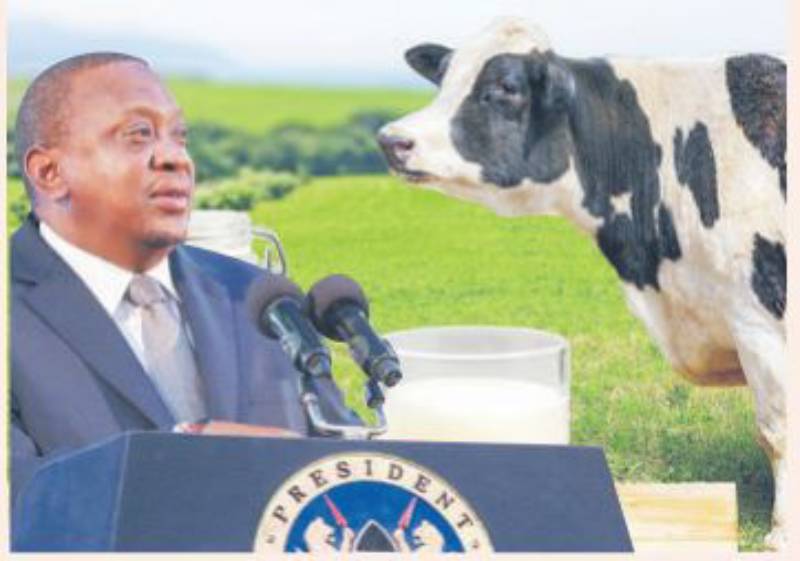 David Njoroge, a dairy farmer from Mukinye village in Gatundu South, Kiambu County, says the business has become unsustainable because of the price volatility, whereas the cost of feeds continues to increase while that of milk is dropping.
Njoroge, who spoke to Mt Kenya Star on phone said that he has been counting losses from his farming for the last three months saying that the drop in milk prices by Sh10 from Sh35 to Sh25 per litre has been a big blow to him and other farmers in the area.
"Processors are buying milk at Sh25 or Sh27 per litre. The prices for maize used in manufacturing feeds has increased from Sh2,500 to Sh3,500 per 90Kg bag thereby making the cost of feeds to skyrocket. I have been forced to dig deeper in my pockets to sustain my farming," Njoroge who has eight dairy cows said.
"The Government through the Kenya Dairy Board must heed to the pledge it made last year that it will be regulating milk prices in the country so as to cushion poor farmers from exploitation by processors," Njoroge said adding that processors including Brookside and New KCC must engage farmers in settling on the prices of milk.
He added that the Government must subsidize the cost of raw materials for feeds and ensure manufacturers produce feeds that are of high quality.
"We want the prices of feeds to be lowered and again the feeds must meet the required standards so that our production can be improved in terms of quantity and quality. This way the burden of the high cost of production will be eased," he said.
"We wish the National Processor would speed up the reforms so that it can shield even the small scale farmers from exploitation by the private processors," he said.
In Embu, Kagaari South MCA Robert Ireri told the Embu County Assembly that packets of milk from Uganda had flooded shops in Embu whereas local dairy farmers were struggling to market their produce.
"The Kenya Cooperative Creameries and Brookside which are buying a litre of milk at Sh29 and Sh31 respectively, down from Sh35. All that we are seeing in the market is milk from Uganda. This should be stopped to protect our farmers who are pouring their milk," he said.
Ireri said Brookside had not paid Kirimiri Farmers' Self-Help Group for the last two months, yet they were still picking their milk. This, he said was a punishment on dairy farmers, but they had no option other than contending with the mistreatment because they had nowhere else to take their milk. Ireri lauded Embu Government for initiating the construction of a milk processing plant at Ugweri market centre.
"This is a positive move that will ensure Embu dairy farmers reap the maximum benefits from their investment into the business. The milk the factory will ensure consumers of dairy products are assured of getting the best quality as the County Government endeavors to edge out sellers of adulterated milk," he said.
Ireri was optimistic that the sale of branded milk from Embu would give residents a sense of pride as well as ensuring that payment of dairy farmers would be time and money would circulate better within the county.
Latest Posts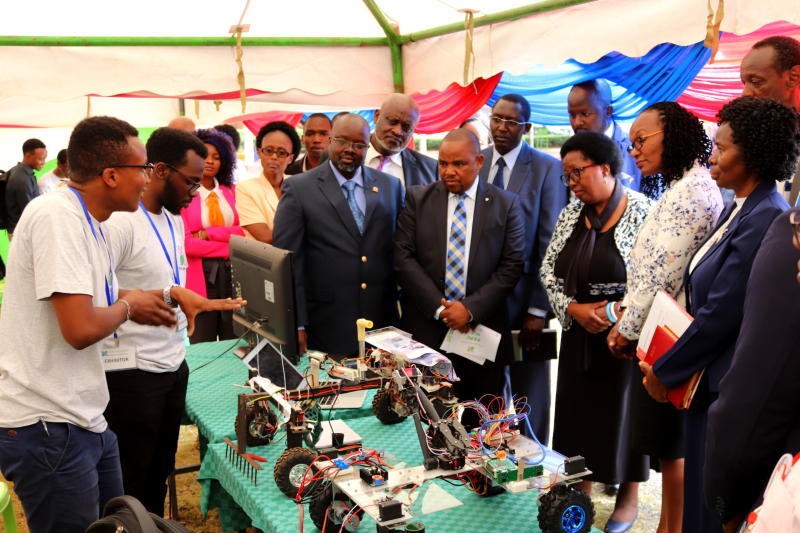 Michael Mwaisakenyi and Kenneth Gichira explain how the weeding bot works.
Related Post