No market for your milk? Start making yoghurt
By Mercy Adhiambo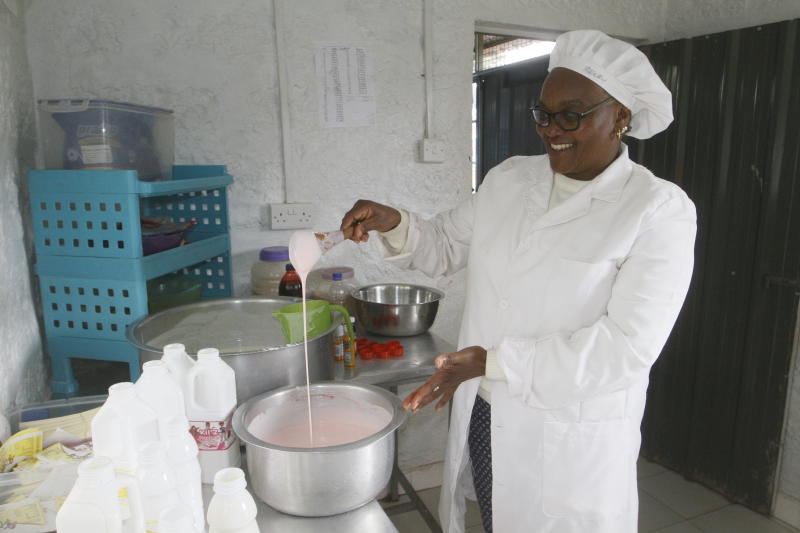 When Becky Njoki's husband died nine years ago, she found herself lonely and wished she had something to occupy her evenings. She was a teacher, and after leaving work, she would find herself idle. In previous years, she had been passionate about dairy farming and had done a lot of research. She was however still apprehensive on whether she would be successful. Her entry into the field came when her mother-in-law gifted her a calf in 2012.
"I started from nothing. I had only one small cow and there were moments I wondered how long it would take me to be established," she says.
She gave her all in taking care of her little calf. She says it is one of the best decisions she ever made. She now owns ten dairy cows, some of which have won awards in cattle shows where animals are judged on their health and how well they are taken care of. For her, dairy farming has been a journey of learning, finding self, rising, facing moments of doubt and falling in love over and over with taking care of her cows.
Her first challenge came when her calf grew and started breeding. She realised she needed more feeds and it was becoming expensive each passing day.
Buying food became unsustainable so she had to look for other innovative ways to ensure her animals do not starve.
"I make silage using maize, water and molasses and I have constructed containers that hold tonnes of food for my cows. I am sorted throughout the year," she says.
Her other challenge came from a place she did not expect. When she first started milking, she was excited. It was something she had literally counted days to see. The hard work was beginning to pay off; or so she thought. It only took a few days for her to realise that things were not as rosy as she had imagined.
"I had excess milk and nowhere to take it. I had to either sell it at a throwaway price or watch it go bad," she says.
Most of her neighbours in Nyeri where she keeps her cattle had cows that gave them milk for domestic use, and they saw no need buying from Njoki.
"I was always looking for a place where I would get information on what to do with my milk," she says.
Her relief came two years ago when JKUAT in collaboration with the ministry of gender organised for training to teach farmers on several issues, including value addition. Njoki attended the sessions and she was taught how to make yoghurt.
"Before I attended the training, I always thought that yoghurt making is something that only big companies can do. I never imagined that I will one day have my own company and not worry about what to do with my milk," she says.
Joan Mugambi, the Deputy Registrar, extension and technology transfer directorate says when they were conceptualising the idea of having the training, they were looking at, among other things, women farmers in rural areas who needed to be empowered. Entrepreneurship was one of the key areas they were looking into.
"We wanted to train women who could, in turn, use that information to train other people. Our goal was a team of women from all over the country to be empowered," says Mugambi.
Njoki, a trained teacher, was among the women who were chosen to attend the training in Nairobi. As a member of Nyeri Progressive Dairy Farmers Association, they already had a system where they met and shared ideas and brainstormed on what they needed to do to handle the challenges that they were facing in Nyeri.
"Our group is made up of teachers, vets, people who are experienced in dairy farming and those who are just starting out. Knowing that there is someone who understands your struggles and can guide you is what every farmer needs," she says.
Equipped with information on how to make yoghurt, she returned from the training and started her own cottage yoghurt making company. She has never looked back. She now produces "Kii'z" Yoghurt, packages and supplies her products in Nyeri and beyond.
She makes an average 150 litres a day. She says she finds market by referral and she often walks to potential customers to market products.
"I have realised that as an entrepreneur, you have to present your products to people you hope will buy your items and convince them that you have the best," she says.
Other than yoghurt making, they were also taught skills such as bee keeping and Njoki has started keeping some bees and hopes that she will expand it in the near future.
Value addition has not only increased the shelf life of her milk, but it has also enabled her make more money. When she was selling raw milk, the highest amount she could make was Sh35 per litre, but from making yoghurt, she makes almost triple the amount.
"I have bought a motorbike to help with transporting my products and I have even employed people to help me," she says.
Looking back, she says she still marvels at the hurdles she has had to jump, and the lessons she has learnt as a dairy farmer.
She has plans for her farm, and hopes that in the near future, she will be able to export her products and getting more orders outside Nyeri County.
"I also believe in mentoring young people. I appreciate that JKUAT invested in me and taught me. I always try my best to pass that information to anyone who needs it," she says.
She urges farmers to always look for training opportunities and to take advantage of the information that different organisations put out.
Latest Posts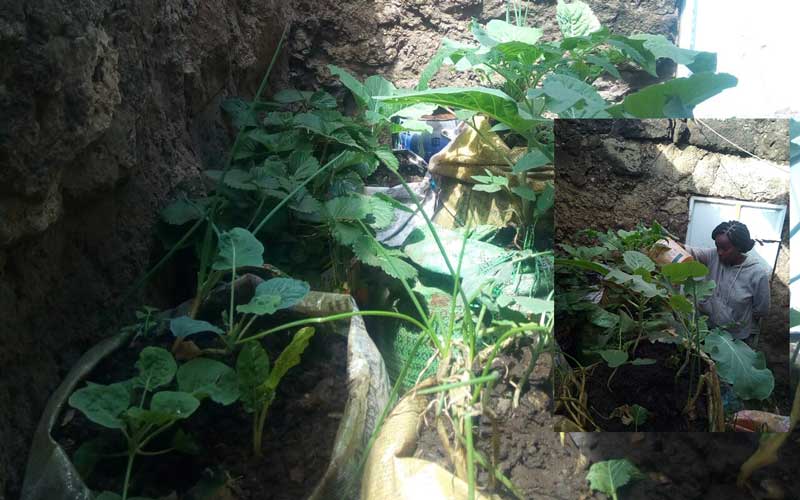 Rachel Irungu (inset) at her vegetable garden in Kasarani, Nairobi.
Related Post