Mburia displays products that farmers get from banana trees
By Mugucia Rugene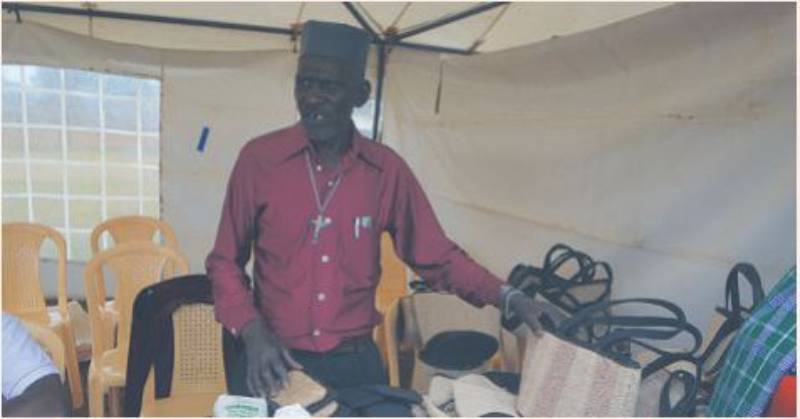 Banana farmers have for many years only eaten or sold the fruit and discarded its stem. Unknowingly, they have been trashing a valuable part of the plant known for its high fibre.
In Kirinyaga County alone, farmers destroy at least 10 million stems annually. Had they been extracting fibre from the banana stems, they would be at least Sh1.2 billion richer every year.
But in what promises to change the fortunes, a farmer Joseph Mburia from Nyamindi farm Njukiini location in Kirinyaga East Sub County has ventured into promoting banana farming for purposes of food and income generation with an emphasis on fibre extraction.
Mburia recently participated in a trade show at Kianyaga and attracted huge crowds. He started fibre extraction from banana stems four years ago. He realized many of the farmers from his neighbourhood were either throwing away banana stems or left them to rot in farms.
"I attended training at Kianyaga where a local NGO was training the farmers on how to extract fibre from banana stems," Mburia said.
He said he got interested and in liaison with the Integrated Community Organization for Sustainable Empowerment and Education for Development (ICOSEED), he was able to acquire two simple machines he uses in his extraction work. Mburia says he has since planted eight acres of a banana plantation which is now a source of his raw materials.
The extraction of the fibre from the stems involves cutting the stems into some small sizes which are then passed through the extraction machine. Mburia has two weaving machines he uses to make various products from the banana fibres.
Some of the items he displayed during the show included table mats, doormats, handbags and baskets which he says are sold as far as Mombasa, Nanyuki, Nyahururu and the neighbouring Embu County.
For a small pocket bag, Mburia says they go for Sh40 with much bigger basket going for Sh500. He says he has become an expert in weaving and later uses a sewing machine to put the weaves together into the desired products.
The farmer says he has also taken to adding value to his bananas and is now producing flour going by the name (Utonga wa Mwiri) meaning health to the body which is also sold alongside his other fibre products.
The flour he says comes from a mixture of pumpkins which he also has in plenty in the farm, cassavas which he gets from the local farmers, sorghum and millet which are all mixed together before the milling of the mixture. The flour he says is good for the people suffering from Arthritis (joint inflammation) and for old people who require a constant supply of energy and warmth.
The farmer says when he started it was small but the business has since grown and currently has seven permanent employees including one nutritionist who is involved in the mixing and preparation of the flour.
Mburia says he is grateful to the ICOSEED chief executive officer Patrick Muriuki who opened their eyes to the fact that banana pseudostems were highly valued due to their fibre with the same quality as sisal. Muriuki says on realizing the farmers were more than willing to plant more bananas, they imported one banana fibre extractor from India which was later fabricated for the farmers in the fibre extraction business.
The CEO says much more products made from the banana fibre include bags, ropes, sanitary towels, paper, table mats, doormats, baskets and beautiful wall hangings. Muriuki says apart from individual farmers like Mburia, they have organized farmers into groups totalling to 117 banana farming groups who harvest and sell banana crop in the market annually.
Farmers, according to Muriuki earn Sh20 per kilogram of fibre extracted at the farm gate level without incurring any costs on transport. "Approximately, 400 farmers benefit every year from this project. The disabled have also been incorporated in the value-adding chain of the Ciondos. They decorate them with beads to make them suitable for sale at local and international tourist markets," Muriuki said.
Latest Posts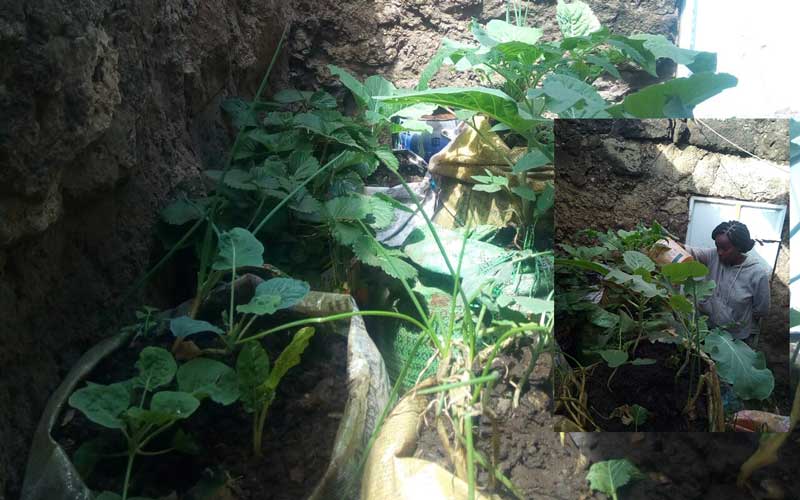 Rachel Irungu (inset) at her vegetable garden in Kasarani, Nairobi.