Nuns turn stony Wajir into a food production land
By FILEX MURIITHI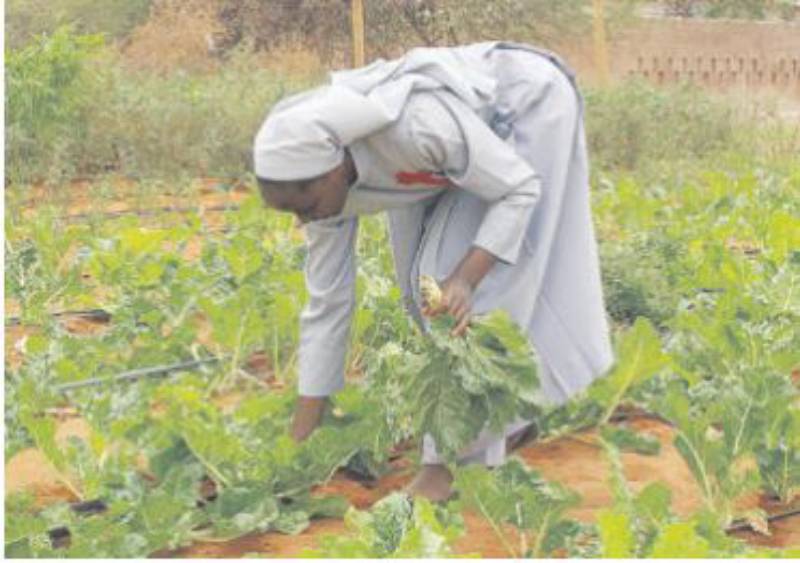 Ordinarily, you will find them in the church fulfilling their ministerial duties of prayer. But Sister Ministers of the Infirm of St. Camillus (Camillian Sisters) congregation based in the dry Wajir County have gone a notch higher.
They have turned the stony land patch into a food-basket mainly benefiting disabled children and women groups, which they (sisters) serve within the region.
Arriving at their model farm located a few metres from Wajir town, one is attracted by evergreen vegetables and fruit crops.
"This livelihood project is christened Wajir food self-sufficiency. Through it, we seek to assist women and have improved nutrition at the children homes and sell the surplus to locals for income," says Sr. Tabitha Kiunga, the project's coordinator.
The farm is sandwiched varieties of crops such as kales, spinach, cowpeas, watermelons, pawpaws and tomatoes among others. But how do they balance their ministerial duties and farming?
"Our work is geared for the good of the children we serve, ourselves and the community at large since we all benefit from the produce. With proper time management, there is enough time for prayers as well as farming," she notes.
She adds, "We have as well engaged a few people who assist us when there is the workload thus creating job opportunities. We organize some agricultural, sanitation and marketing training to 30 women in our farm and supply them with seeds to do the same in their small plots. They, in turn, teach others thus propagating the knowledge gained hence increasing food production."
Alex Njiru, a resident of Wajir town says locals get most of the food products such as cabbages from Meru and Isiolo among other counties at a high cost. For instance, a piece of a medium-sized cabbage retails at an average cost of Sh200.
"The distance from Meru to Wajir is long. Therefore, it is hard for us to get fresh vegetables among other farm produce. Mostly we buy cabbages when they have turned yellowish," Njiru says.
He says the sisters' project is God-sent since it has seen prices of vegetables dropping. "Sisters have not yet started growing cabbages but we have already seen the change in prices and quantity of the produce they harvest.
For instance, we buy half a kilo of spinach at Sh100 but sisters sell the same quantity at Sh50. The problem is that their (sisters) farm which they have put under the crops is not that large to sustain the market." Sr. Tabitha says they located their three farms in three different villages — Alimaow, Bangal and near Wajir town — of one hectare each in order to be closer to people for easy training. The close proximity to locals has also been saving time when they hire laborers. The nun-coordinator says water challenge is the major drawback faced by many people in the region making their lands lay idle.
She says through the assistance of the donor—Salute Sviluppo—they were able to drill three boreholes, connect pipes for irrigation and acquire three tanks of 5,000 litres capacity each as their water reservoirs. The water is pumped through solar-powered systems.
They use drip irrigation to water their crops, a technique that she says guarantees efficient use of water if managed correctly.
"In our case, the much-needed commodity was water for irrigation because we are working in an arid area with very poor rain pattern throughout the year. The donor, however, assisted us to start up in November last year," she says.
She reveals that from the sales of the produce, they are able to save at least Sh2,000 when the demand is high though sometimes the market gets flooded with produce from other neighboring counties such as Isiolo thus reducing their profit.
The revenue is used to buy food and supplements for children benefiting from the Sisters.
Challenges
However, they too face a myriad of challenges in the work.
"This being the first time, we have learnt a lot. We're very glad of the progress made so far despite many challenges which include the hot climatic conditions, the birds which continuously poke holes on the pipes, and the multiplication of pests and diseases which is costly to control considering the cost of chemicals."
"We control pests and disease through spraying of chemicals though unfortunately, others are difficult and complicated to manage," she notes revealing that shallow boreholes produce low water yield due to prolonged drought.
Latest Posts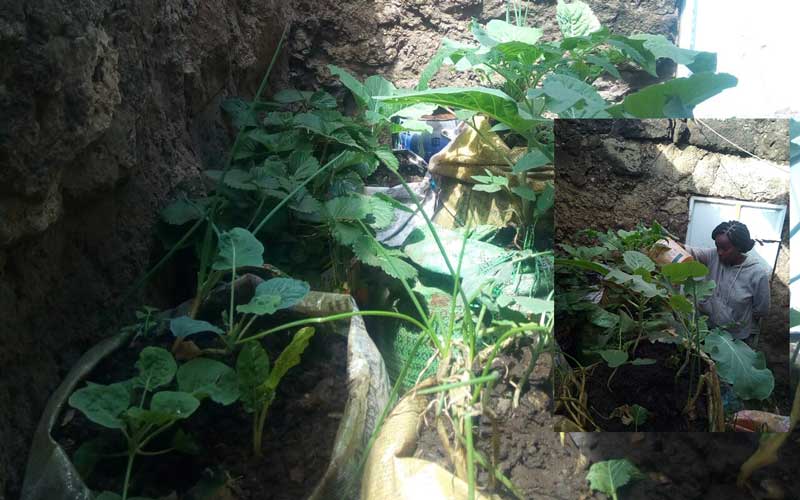 Rachel Irungu (inset) at her vegetable garden in Kasarani, Nairobi.
Related Post