How a pig breeder grew his stock
By P.C KIPNGENO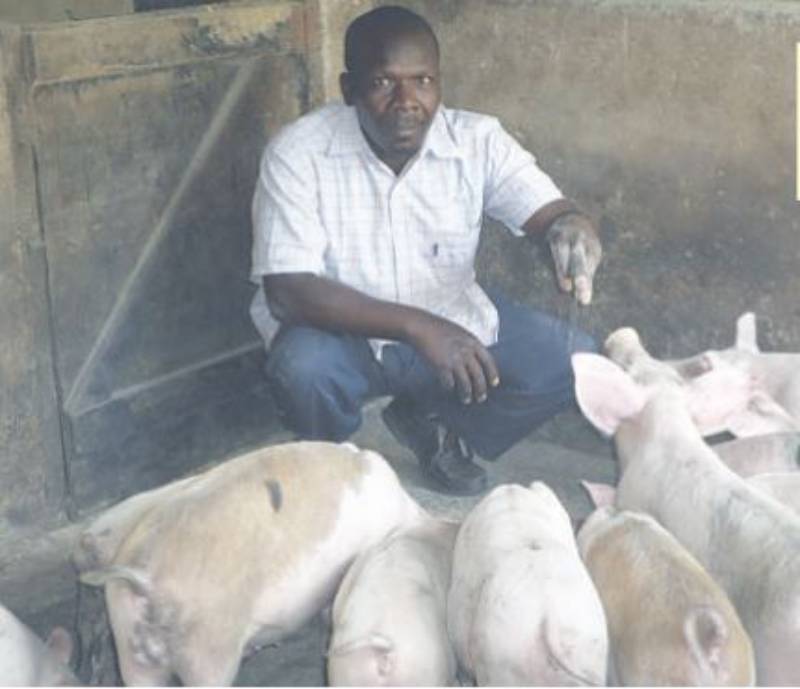 On the outskirts of the bustling Kakamega town, about 25km away, sits Samuel Sumba's three-acre farm, just opposite Ingotse High School. Benard Nyaramba, who is the farm manager, and ushers us into the farm. A few minutes later, we arrive at a structure that is made of concrete and iron sheets.
This is their pigsty measuring 25 feet by 15 feet and it hosts over 100 animals of the Landrace and Large White breeds. All the animals are at different stages of growth. "The number has reduced because two weeks ago we sold 90 pigs aged four to six months and weighing 50 to 60kg at Sh15,000 each to a certain group in Busia County," says the farm manager.
The farm, according to him, has specialised in raising young animals for sale to farmers, albeit they also sell in-calf sows and pigs for meat. It all starts with selecting the animals to breed. Some of the things they consider are the genetic potential of the animal, growth rate, the ability to raise healthy and large number of piglets.
"This starts when they are three months old. We isolate them looking at their posture, health status, and stability," says Nyaramba.
Selected gilts are housed in groups in the breeder shed. Once they hit six to seven months of age, and weigh 70 kilograms to 80 kilograms, they are mated.
The farm manager reveals that after mating, the sow is returned to a pen and then served again 12 to 18 hours later.
"A follow up should be done on the sows after 18 to 23 days after mating to see if they are pregnant. The first month of pregnancy is critical to the animal, therefore, any form of stress should be avoided. Poor nutrition has a direct impact on the development of an embryo," says Nyaramba, noting that pregnant sows feed more efficiently than dry sows.
Pigs have a gestation period of about four months.
"Most of our gilts have a history of calving 14 to 16 piglets," says the manager, adding that they also sell in-calf sows at between Sh30,000 and Sh40,000.
The farm sells the piglets at various stages of life. They sell them from three to six months of age; going between Sh10,000 to Sh15,000 each. Apart from breeding, they sell animals for meat to Farmers Choice, their biggest market when the pigs weigh 70 kilograms to 90 kilograms. A pig weighing approximately 80kgs is sold at a price of Sh18,000. The farm sells at least 25 pigs every two weeks, making good sum of money.
Samuel Sumba, the owner of the pig farm, reveals that a friend introduced him to the lucrative agribusiness sometimes back in October 2010 in a place known as Bukura. "I bought three pregnant sows at Sh10,000 each. I didn't even have a house for them, so I placed them in a temporary structure just next to my house," says the farmer.
With a capital of Sh220,000, the farmer reveals that they built six roomed structure for the animals that had offered him 45 piglets.
"Most of the pig-rearing skills I have learnt online and through farm visits, but the farm manager is an animal health specialist, thus, he helps me take care of the farm because I am based in Nairobi," says Sumba.
When the pigs are born, the farmer clips the teeth so that when they suckle, they don't bite their mother's teats. In addition, the farmer administers iron injection on day three, after two weeks and then after another three weeks, respectively to boost their immunity. The farm castrates the male piglets at on the third week. The farmer spends close to Sh120,000 on feeds alone every month.
"We buy forty 50kg bags at Sh1,900 of commercial feeds for the pigs, though we are slowly shifting to making our feeds from maize germ, rice bran, cottonseed cake, omena (fishmeal), lime, milk powder, and sunflower cake," says the farm manager, adding that the animals require plenty of water.
There is no venture without a single hurdle. Diseases are some of their main challenges, including boils that have ever attacked some animals.
Latest Posts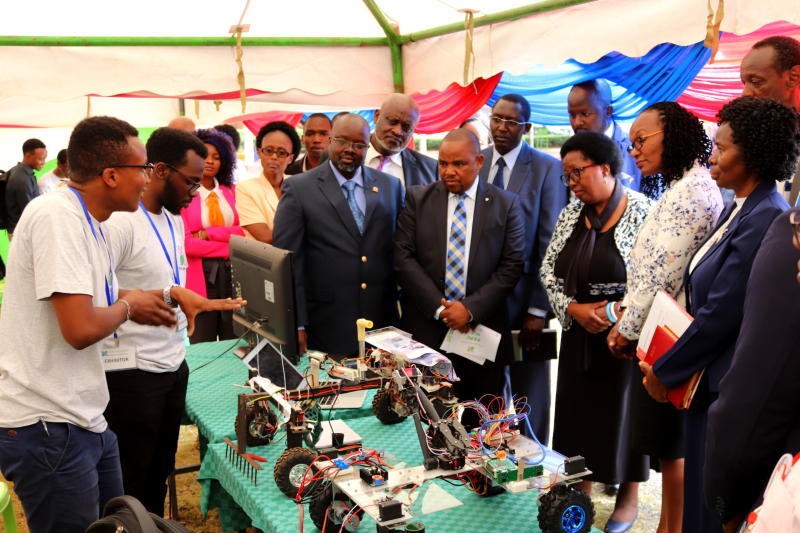 Michael Mwaisakenyi and Kenneth Gichira explain how the weeding bot works.