Kilifi 'coco-prenuers' giving life to coconut farming
By Gerard Mutunga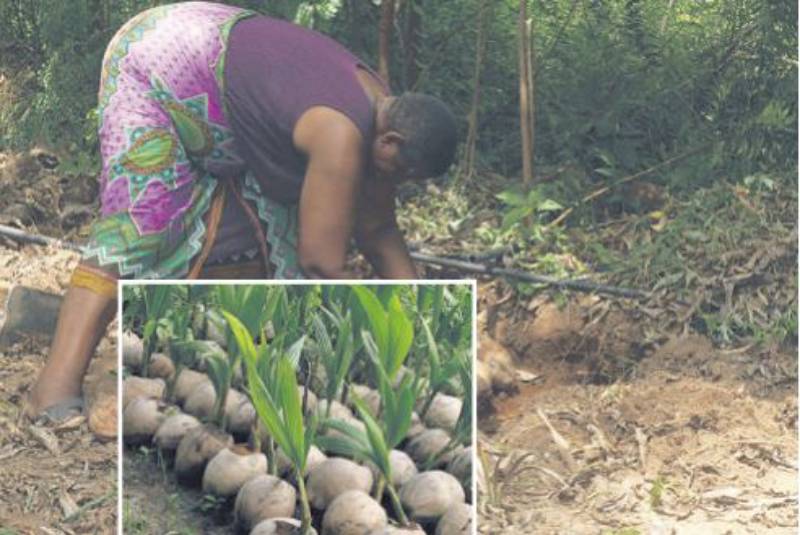 Mama Susan Mghoi Sonje welcomes us with joy to her compound; the 70-year-old has just completed a valuable sale from her coconut nursery.
The retired high school teacher treasures her work as a coconut nursery operator more than her previous teaching career. She has established herself in her work, and supplies coconut seedlings all over the coastal region, and recently to Meru County where coconut farming trials are underway.
"Previously I was a teacher, my current job after retirement pays better, I think I wasted time at the school, currently, I have been able to build houses for rent, and renovated my home." Sonje joyfully explains.
The coconut plant is the main cash crop in the coast region. Sonje worries that the valued cash crop is dying and its future is doomed if several factors don't change.
"Most young people don't want to plant coconut, because of they take much time to mature and produce, in addition, people don't want to plant because the land around here is communal, young people will say, this land is not mine, if I plant, who will harvest, everyone, and when I die, who will inherit?" laments Sonja.
The resident of Gedi in Kilifi County has also ventured into coconut oil production through her brand and also trains locals on coconut production and value addition skills. Though on a small scale, she has managed to get certification from the Kenya Bureau of Standards. Her market is gradually growing as demand increases.
While Sonje skillfully prepares her coconut seedbeds, Joan Atamba, who proudly insists on being referred to as 'cocoprenuer' is sure of a constant supply of coconut in her production plant. Joan is the key face behind a local brand Coco Vita Limited; as the Co-Founder & CEO and has currently created employment for 23 people most of whom are women. The company produces 100 percent natural extra virgin coconut oil which is sold both locally and internationally.
Her startup story was intrigued by the worth of the Kenyan Coconut sub-sector which is estimated at Sh13 billion with numerous products that trend globally, yet back at her home the communities that grow coconut remain pretty much poor with nothing to show for their labour.
"After much research on the coconut sub-sector, I realized its potential and saw a gap in authentic value-added coconut products as well as the desire to help farmers get a fair share of the market cake. Coco Vita is keen on creating a direct bridge between the farmers (mostly women and youth) and the end consumers ensuring that the coconut growing communities are the greatest economic beneficiaries of their very own natural resources of coconuts," Atamba explains.
The coconut plant is a perennial tree crop that is widely cultivated in more than 86 tropical countries of the world with a total production of 54 billion nuts per year. The plant produces nut throughout the year when climatic conditions are favorable and are one of the most important food security crops. The plant is also regarded as the 'tree of life' owing to its wide range of over 120 products for domestic and international markets.
At the Kenyan Coast, it was introduced by the Portuguese in the 16th century. Its cultivation spread rapidly and it becomes an industrial crop of considerable economic importance during the 20th Century.
In Kenya, the majority of the coconut trees are found in the Coastal Counties of Kwale, Mombasa, Kilifi, Tana River, and Lamu. Taita Taveta, Coastal Highland County also has a small population of coconut trees; with the area under production continually increasing on a yearly basis. Other areas with potential for coconut production include Busia and Homa Bay in the Lake Victoria region and Tharaka Nithi in the Eastern region.
The Coconut value chain is underscored as a key contributor in addressing poverty and food insecurity. Various government agencies have been striving to improve existing farming practices.
Micro Enterprises Support Programme Trust (MESPT) with funding from DANIDA has been supporting the value chain for 15 years. In partnership with government agencies, they carried out various surveys which prompted the journey of sourcing the hybrid coconuts in 2012.
MESPT with support from DANIDA commissioned the arrival of six thousand hybrid coconut seed nuts from India in 2017. The seed nuts were planted the same year at the Kenya Agriculture and Livestock Research Organization (KALRO) in Matuga, Kwale County. Propagation into seedlings was done in partnership with Kenya Plant Health Inspectorate Services (KEPHIS) under closed quarantine in line with Government regulations.
To date, the hybrid seeds imported have since been transferred to farms and continue to grow under close supervision.
Through such interventions, nursery operators like Sonja and coco-prenuer Atamba have been able to find hybrid coconut seeds, find a market for their products and get financial support for enhancing value addition.
Latest Posts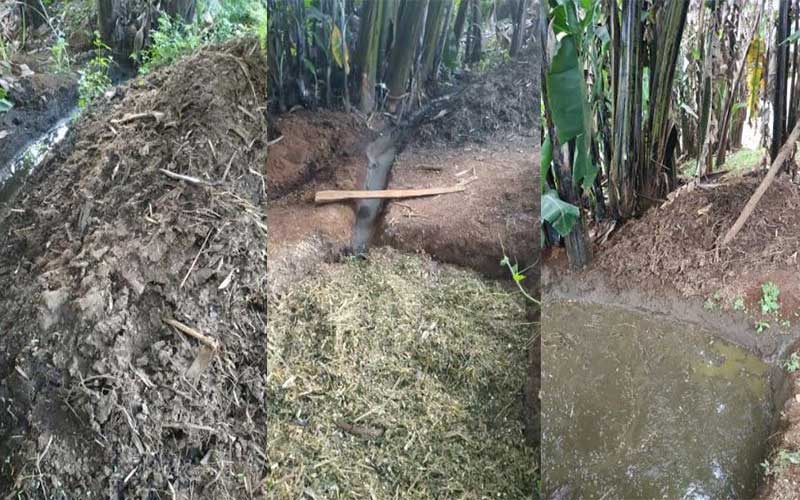 Joyce Nyakio preparing her compost manure.