Why I still keep dairy cows despite the odds
By John Shilitsa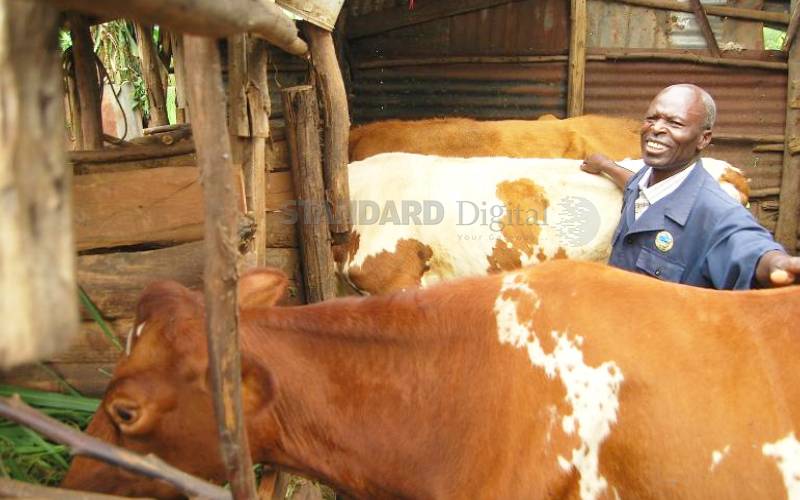 A chef's job at a high-end hotel is not something you wake up and quit for farming. And not especially during this era of high unemployment.
But one Eshiwani Akhonya left a well-paying chef's job in Nairobi to venture into dairy farming.
This was a bold step given that he had no previous knowledge on rearing dairy cows for profit.
Though it has not been smooth sailing, he says it is worth every effort.
"Quitting my job to start rearing cows was one of the most difficult decisions I had to make.
I knew it was a huge gamble but I was determined to make it come rain come shine," Akhonya tells Smart Harvest at his farm in Joyland, Kakamega town.
The farmer began with one Ayrshire cow but slowly increased the numbers and this came with more milk yields.
He now has 25 dairy cows on different farms in Kakamega town and his Bukura home.
He gets at least 18 litres of milk from his lactating cows every day which he sells at the local dairy.
With a litre of milk going for Sh60, Akhonya says he makes good profit that cannot compare to his chef job.
"The money I get from selling milk is significantly more than I used to get from my chef job. With this money, I can fend for my family and I have educated my children from high school to college and meet all family expenses," says the father of five children who are now grown up and independent.
Solid source of income
So how does he do it?
"The secret to increased milk production is proper management of the herd including proper feeding, observing high hygiene and keeping diseases at bay by regularly spraying the cows to kill ticks," he shares.
To minimise production costs, he has created a simple cattle structure that occupies minimal space.
To give the animals comfort, he has placed dry grass on the floor, which ensures there's no dampness.
He has found a way to communicate with the animals to know whether they are happy or not.
Akhonya feeds the cows on a mixture of dry green crops such as such as Lucerne grown on the farm and also buys feeds from local agro vets.
For high milk yields, he says the breed choice is fundamental.
"Ayrshires are known for high milk volumes and is the most preferred. It is the reason my milk sells like hot cake," said the farmer.
Though he has broken even, the business is not without challenges with the biggest hurdle being the high cost of feeds.
"The reason many farmers are quitting dairy keeping is the high cost of feeds. It is like the prices keep shooting up every day," says Akhonya.
The other big challenge is the drop in milk prices, a situation the farmer attributes to cheap imports from Uganda and high inflation.
He sells a litre of milk at Sh50 which is way too little given that the production costs are high.
Feeding
"Milk prices at the moment are low and if were not for my passion, I would also have quit like my fellow farmers," he confesses.
The farmer has also been disappointed with Artificial Insemination services due to their high failure rate.
"Sometimes, those who conduct Artificial Insemination have to do it again and again for the cow to conceive and that is an extra cost. I am not sure whether it is the quality of the sperm or lack of expertise that causes it," says Akhonya.
Dr Simon Wesechere, says Artificial Insemination is critical for the genetic improvement of farm animals because it guarantees maximum use of superior bulls unlike the natural service.
According to the expert, both farmer and the inseminator unwillingly contribute to AI failures through acts of omission and commission.
For instance, a farmer may fail to detect exact time when the cow is on heat. This, according to experts is the most common cause of AI failure in herds bred artificially.
Wesechere says the ideal time to inseminate would be during the second half of the standing heat period to guarantee conception.
That aside, the vet says small scale dairy production in Western Kenya is fraught with risks.
"First many people on the ground have limited knowledge on disease prevention, management and control and the area has high prevalence of pathogens. The costs of feeds is also high," says the Vet.
Because of the cost implications, the vet notes that many small-scale dairy farmers do not investment in animal health, especially disease prevention.
The common diseases to watch for are mastitis and Rift Valley Fever.
To control mastitis, Dr Wesechere says a farmer must observe high hygiene standards by creating a clean and stress-free environment for the cows.
It also helps to clean the cow teats regularly. A farmer should also use clean cloth towels to clean and dry teats. Another useful measure is examining the udder every day to ascertain whether there are signs of infections.
Latest Posts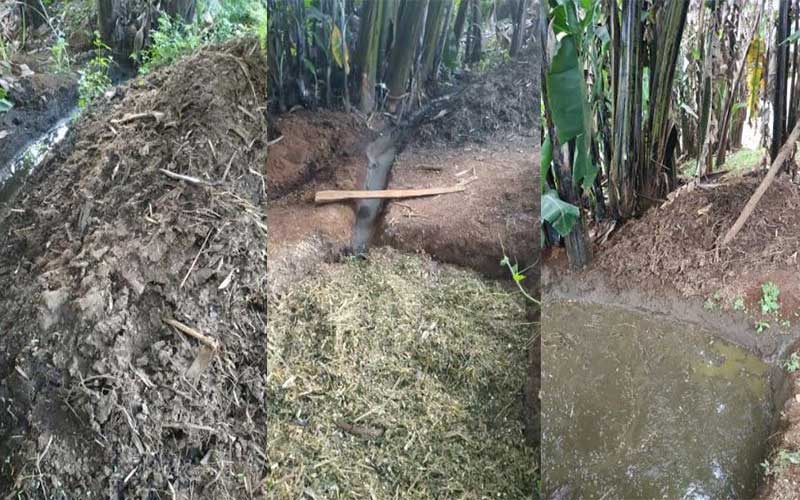 Joyce Nyakio preparing her compost manure.
Related Post