How to avoid get-rich-quick schemes and other agri scams
By Gardy Chacha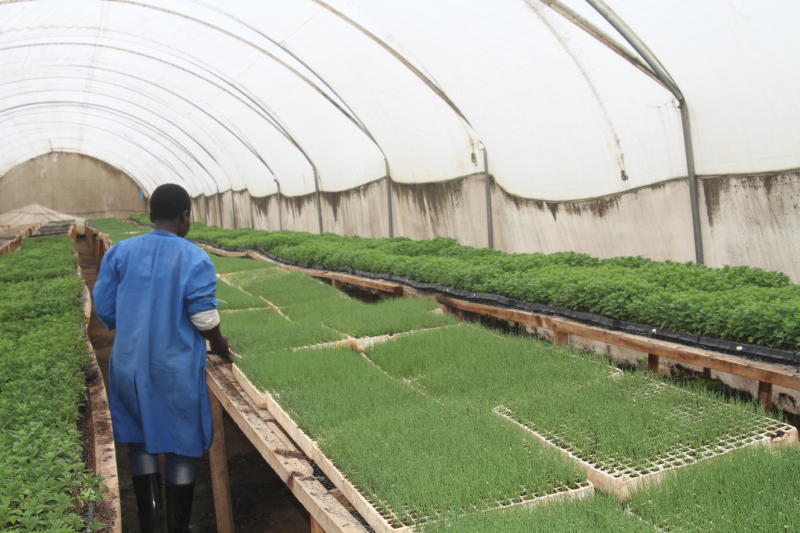 In June 2019, Jane Ntandi (not her real name) encouraged her retiree mother to invest Sh380,000 in contract farming.
Ntandi says Goldenscape Greenhouses, a farming company that purported to offer investors handsome returns for their investments, had come across as trustworthy.
"We had been seeing them on a popular TV station almost every month. They would be issuing cheques to investors," she says.
It was all a charade, Ntandi now says. A charade packaged and presented through trustable medium.
Web of lies
"For my mother and I, if they were on a credible TV station, they surely were legitimate people!" Ntandi says.
The money the two invested was part of her mother's early retirement package amounting close to Sh700,000: hence more than half.
"The company told us they were running greenhouses in Laikipia. Soon, they said, they would be expanding into Kitengela and Kajiado."
Neither Ntandi nor her mother went to confirm the exact location of the farm that was carrying the greenhouses.
"Again, having seen them on TV, we trusted that they were telling us the truth," she says.
For an investment of Sh380,000 Ntandi and her mother would collect an initial profit of Sh275,000 after six months (in January 2020).
"January came and went. We called them and they said due to unexpected high amounts of rainfall the crops delayed.
"They gave us a new date: February 29. February came and passed. We called them again and wrote emails," she says.
This time, they were met with dead silence. None of the contacts they had been given were going through. When they went to the company's offices they were closed.
"That is when we realised something was wrong: we had been scammed," she says.
Masters of marketing
For Geraldine*, an investor, the ruse was sold to the public by masters of marketing.
"First, they had been on TV nearly every weekend – dishing out cheques to investors whose investment had matured.
"And then, to me, it all looked genuine. They were not promising money from nothing. They would invest in greenhouse farming. They could demonstrate how they would make the money. It was believable," she says.
Geraldine invested in several units – spending close to Sh3 million.
"After six months I received a cheque of Sh600,000. I felt so good. I reinvested the money into the business," she says.
In another six months she was due to receive the second tranche of profits. Like the first time, she got a cheque. But it bounced.
That set-off a cat-and-mouse chase between her and Greenscape officials.
"They always had some clever answer to my questions. They would blame the weather, stock markets and pests. Sometimes they told me that since I was a heavy investor, my returns were high: they needed to pay the small investors first," she says.
This went on until Geraldine came across complaints online of investors like her who hadn't received back neither their money nor return on investment.
"Immediately I knew I had been conned. I almost suffered a heart attack and diarrhoea at once," she says.
But what is wrong with this 'farming' model?
According to John Mburu, an agricultural economist at Egerton University's Tegemeo Institute of Agricultural policy and development, the model the firm was using is a dubious way of farming.
What actual farming entails
"The right model of contract farming is the one where the farmer is in control of the farming process. This other model is where the 'farmer' surrenders money and sits back to wait for returns: it is likely to be a scam," he says.
To avoid falling into such traps, it's good to know what actual farming entails. Actual farming, Mburu says, is not as easy as investing money and waiting for returns. "It requires one to be hands-on: there is no magic."
What does farming entail? And why would the Goldenscape model fail the farming test?
a) In farming, no profit is cast on stone: The Goldenscape model promises profits ahead of time. Ntandi was promised Sh275,000 in the first six months as well as in the second. They would earn Sh125,000 for each every six months for the remaining one year of the contract.
According to Mburu, farming faces obvious risks such as bad weather and unpredictable climatic patterns.
"Everything might have gone well halfway into the growing season then severe drought engulfs the area and everything withers off," he says.
Also, crops are always at the mercy of pests and diseases; which may strike at any time between planting and storage.
Therefore, anyone who becomes a farmer expecting profits every season is in the wrong venture.
b) Farming requires passion: Sylvia Miloyo Kuria has been a farmer for nine years. "We went into farming many of us: we were friends. Today only two or three of us are still farming," she says.
Many times, she says, she considered quitting altogether. The challenges in farming are a dime a dozen.
"There is preparation – which requires heavy investment and manpower. There are farm inputs like seeds and manure. These too require manpower and financial investment.
"After planting, there are pests and diseases to deal with. And then the weather, as always, is unpredictable," she says.
At every stage of farming there is a challenge. It takes passion, she says, to stay in the ring.
"It is only passionate farmers who make some profits; that is because they are committed and ready to face the challenges of farming," she says.
Farming, she says, will cost the farmer time, resources and money. And for it to be profitable the farmer must sweat it. No farmer worth their salt runs a farm through phone calls, she says. And no farmer 'invests' money then sit back to wait for returns.
"A farmer has to get their hands dirty," she says.
c) Farming requires patience: According to Mburu, a first-time farmer must go through baptism of some sort.
He says: "The first season is usually a time for the farmer to learn about the realities of farming – external factors such as weather, pests and disease.
"With every planting season the farmer studies how the crop behaves and devices better methods of dealing with pests and disease.
"As the farmer smartens they start earning profits as they make the right decisions – based on previous experiences."
Mburu postulates that it may take a few years for the farmer to learn the ropes. Hence, profits may not be as immediate as expected.
d) In farming, profit margins are mostly modest: Several factors determine profitability.
They include: demand and supply variables, volumes of produce, the quality of the produce and storage.
"If all goes well, the profit margins are modest," Sylvia says.
Sylvia is an organic farmer. Among the crops she grows are tomatoes.
Under a 26 by 66ft greenhouse, she produces on average 80Kg of tomatoes a week – which she harvests over three months.
"I sell 1Kg at Sh50. That amounts to about Sh16,000 a month. And Sh48,000 in three months," she says.
On a 50 by 100 ft plot (similar to the sizes of Goldenscape promised investors they would be producing on) only one and a half greenhouses would fit. Which would earn Sylvia Sh72,000 after six months.
"It would be a miracle to produce tomatoes valued at Sh275,000 in six months on a 50 by 100 ft plot," she says.
e) Never surrender control of the farming: Proper farming requires that the farmer manages the farm by themselves.
Contract farming, Mburu says, is a fairly safe mode of farming.
"But only if the farmer is in charge," he says.
The model, as proposed by the likes of Goldenscape is flawed, Mburu says.
"Contract farming is where a farmer is in agreement with a company that will buy the produce. The farmer is in charge of the farm. They do not surrender the farming to the company. All the company does is buy the farmer's produce," Mburu says.
Any contract farming that requires the farmer to merely sign in financial investment, Mburu says, is as phony as a pyramid scheme.
Latest Posts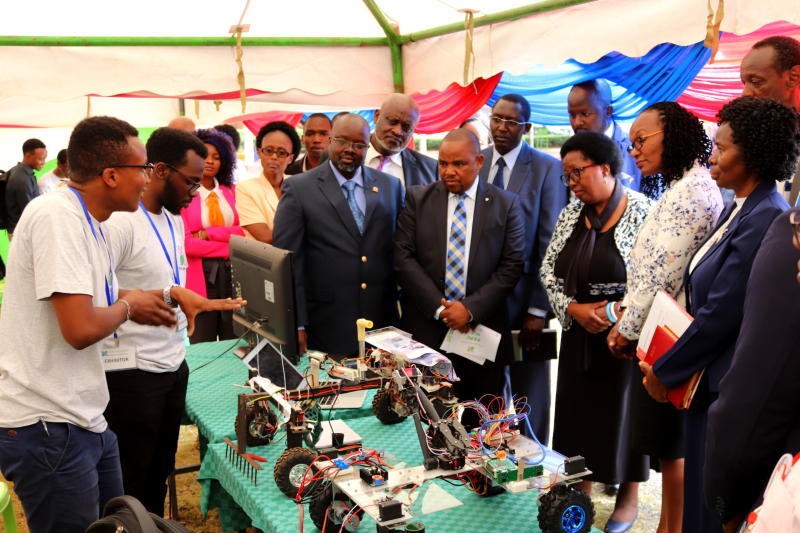 Michael Mwaisakenyi and Kenneth Gichira explain how the weeding bot works.
Related Post