Secrets of a thriving dairy started in 1963
By Caroline Chebet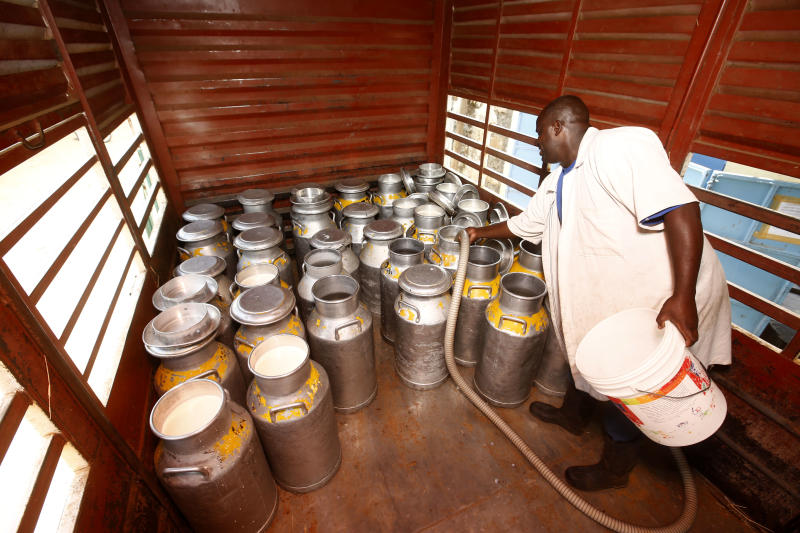 Located near the equator in Mogotio town, Baringo County, is a dairy coperative that exemplifies the power of numbers and resilience.
In this little town, with super high temperatures throughout, stands an admirable dairy project that has stood the test of time.
In the small town of Mogotio, the first batch of 100 farmers came together to open a dairy in 1963 that has since grown to accommodate over 2,500 members.
The cooperative society, whose capacity has been increasing every year, supplies between 7,000 to 8,000 litres of milk per day, depending on the season.
"This is the oldest dairy cooperative society here. It opened its doors in 1963 and has never bowed to any pressure. Milk production is constantly increasing. Currently, we receive 7,000 litres of milk from 900 active members daily which we supply to the new Kenya Cooperative Cremeries," Mogotio Farmers' Cooperative Society Chairman Mr Wilson Cheruiyot says.
During the high season, production goes beyond 8,000 litres.
Value addition
The cooperative society receives milk from farmers and stores it in a 3000-litre cooler for distribution to KCC and local shops. The capacity of production within Mogotio, according to Mr Cheruiyot, is high and cannot even contain the entire 7,000 litres they receive in a day.
"Mogotio is historically a dry area but what many people don't know is that there is a lot of milk here. The dairy sector thrives in the area and the cooperative was started to solve the challenges of exploitation by middlemen and also securing a daily market for the produce," he adds.
During the high season, the cooperatives receives over 8,000 litres a day from the farmers. The milk, is tested at the collection points to weed out that with low quality. The testing, rules out milk adulterated milk and that is not fresh.
Demand is high
But it is not just buying and selling of milk from farmers that has kept the cooperative on the edge, it is their value-addition that has seen them diversify products like processing and packaging of sour milk and yoghurt.
They started value addition two years ago, and so far so good.
"We realised adding value to products was way more productive than just selling raw milk. We use 600 litres a day for value-addition and from every value-added product per litre, we get Sh80 per litre unlike Sh30 per litre we get from fresh milk," Joseph Too, production manager of the cooperative says.
In a month, 18,000 litres are used for value-added products which are sold in shops within Eldama Ravine, Kabarak, Kabarnet, Marigat and Mogotio. The demand for the products, they say, is high.
To improve milk quality and boost production, the cooperative society sends in extension officers and experts to the villages to sensitise locals as often as possible.
"We often visit the farmers to give them tips on ways of improving productivity. We also connect them to veterinary officers for disease control," he says.
Though they have broken even, they still face challenges. Poor prices from buying companies they say, sometimes drive farmers to middle men, a main challenge to both farmers and the cooperative society.
Another challenge is the high cost of coolers for storing milk. A milk cooler that holds 3,000 litres of milk costs Sh5 million and a generator to run it Sh2 million.
Related Post