Somebody do something, we are producing less coffee than we did in 1963
By Joe Nyagah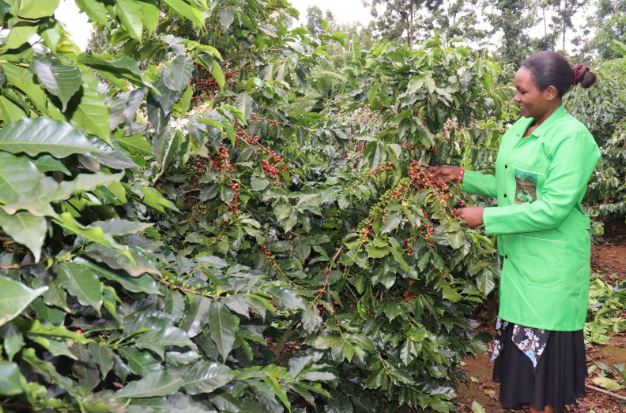 Once upon a time coffee was the number one foreign exchange earner for Kenya. Earnings from the crop paid for all family requirements. I doubt if there was a more respected person in the village in those days than a coffee farmer.
But, like the life of a sisal farmer in the semi-arid areas, the coffee farmer too slowly lost the glory. Sisal for many years was Kenya's number three most important export earner.
At the time Kenya was the number one producer and exporter of coffee in our region. In fact, at one point during the Idi Amin presidency in Uganda, much of her coffee was smuggled into Kenya.
Over the years Kenya has lost the number one position to both Ethiopia and Uganda.
Last year, we produced less coffee than we did in 1963 at Independence. In the eighties, the country reached an annual production of about 140,000 tons.
Today, we are below 40,000 tons. What a shame for a country with so much potential to produce more! At the international level, countries such as Vietnam have come from nowhere, overtaken us and is now the number two producer after Brazil.
What went wrong for Kenya?
There are many factors that have led us to this situation. A major part of this has to do with poorly introduced liberalization of the coffee sector following the introduction of the Structural Adjustments policies by the International Monetary Fund and the World Bank.
The end effect of this was to destroy the cooperative institutions that we had built over the years from the farm to the cooperative society, unions and such national institutions as KPCU. Such government institutions as Coffee Board, not to mention Cotton and Lint, Pyrethrum, among others, starved of financial support, all collapsed for all practical purpose.
Their role in the supply chain was messed up as a result. This in turn led to government pulling out its strict and direct role in ensuring proper management of our coffee cooperative institutions thus leading to their mismanagement.
A major supplier of coffee, the cooperative movement, was soon on its knees.
The coffee supply chain institutions were very dependent on strong and efficient unions for supervision of the crop management. Some of these unions had their own extension officers who, together with the Ministry of Agriculture extension officers, regularly visited the farms. They helped the farmers on such matters of proper application of fertilizers, pesticides and even grading at the factories.
Many of these extension officers had specialized training in coffee matters.
The large scale farmers faced a slightly different problem at the farm level which led to a drop in production. They were heavily dependent on commercial banks funding which started drying up at that time.
I was a banker at the time and I recall the Central Bank stepping in and forcing us to lend at least ten percent of our loan portfolio to the agricultural sector. This helped to improve the situation for a period. In addition, they were also dependent on KPCU crop financing which also suffered and eventually dried up due to mismanagement.
The Coffee Research Foundation near Ruiru has over the years had an International reputation and contributed to the development of such varieties as Ruiru 11. This variety boosted the production of coffee in the country as it slowly replaced the traditional varieties. Research funding was reduced too due to those funding policies of the eighties and nineties.
Real estate developments have replaced much acreage of coffee farms and especially in areas near major towns. This has greatly affected the production from the large scale coffee farmers in particular, and also the small scale farmers to some extent.
Enter Kibaki
Over the years, and especially during the Kibaki Administration, much attention has been paid to the sector. There were debt waivers for cooperative societies and unions that were meant to assist the farmer. It was hoped that this would eventually assist in increasing the production of coffee and also its productivity.
Currently a coffee tree produces as low as two kilos, yet the potential is thirty kilos. This is simply too low a productivity and our efforts should be centered now on increasing it. At this level of productivity, no farmer can expect to make money.
That is why farmers have run away from coffee production. As a result of our low production of worldwide popular Arabica variety, we should expect continued thefts of coffee down to the farm level.
We shall continue to complain of cartels controlling the sector. In order to avoid these and other blockages, we must come up with policies that aim at increasing total production. The Coffee Task Force must take a lead on this.
We appear to think that our major problem is in marketing and adding value to our coffee. We have now tried this for a long time and it has not worked. At one point we introduced the Direct Sales Program.
Did it increase our revenue as a country substantially?
No. Vietnam's example has shown us that what we need is to ensure that the farmer produces a minimum of say ten kilos per tree. If we can get it higher, the better. This would automatically put more money in a farmer's pocket that would now have profits and in turn encourage him to pay more attention to the crop. The national production would go up to levels that would earn the farmer and the country substantial funds.
The problem of trying to export a value-added product is that we only produce Arabica variety. Each market has a preference of its coffee taste. How, for example, would we get the Germany taste "produced "here in Kenya?
We would first have to study that taste preference; import Robusta coffee variety; mix it in the right proportion before exporting it to Germany. Does it make sense? I doubt it. That is why most of producing countries export raw coffee.
Until we become a coffee-drinking society, we shall be "forced "by market forces to export raw coffee. This explains why the biggest exporters of processed coffee are in Europe and US and not the growing countries.
I learned this when I was Ambassador in Belgium when I was trying to get some of their companies to set up value addition facilities in Kenya. The real need then is to increase our production to surpass our previous peak of 140,000 tons.
How do we do this?
Both the national and county governments should support the entire supply chain and that is why we welcome the activities of the Task Force. We must fund research that will continue to give us high yielding varieties that can be grown in many parts of the country both in highlands and drier areas. The variety should also be pest-resistant.
The role of the government in assisting in marketing of the coffee is crucial. Funding, both from government and other sources, should be made easily available. There is need to employ many coffee extension officers.
Meanwhile, we must continue to strengthen the cooperative movement and other grower organizations in order ensure good governance. If we do this, we may find that there is no need of continuous debt write offs.
The farmer would have enough profits and would not need to go borrowing for his operations. Even the coffee cartels will be happy as there would be enough coffee available for all.
In conclusion, we should focus on the farm and ensure that each tree produces ten and more kilos. We know the quantity can go up to thirty kilos. With that, the farmer will be happy and the country will earn substantial amount of foreign exchange. Other countries like Uganda and Vietnam have done it. Why not us!
The author is a former Cabinet Minister for Co-operatives,
Email: [email protected]
Related Post