Farm gets 'smart' in fight against pests
By Sylvia Wakhisi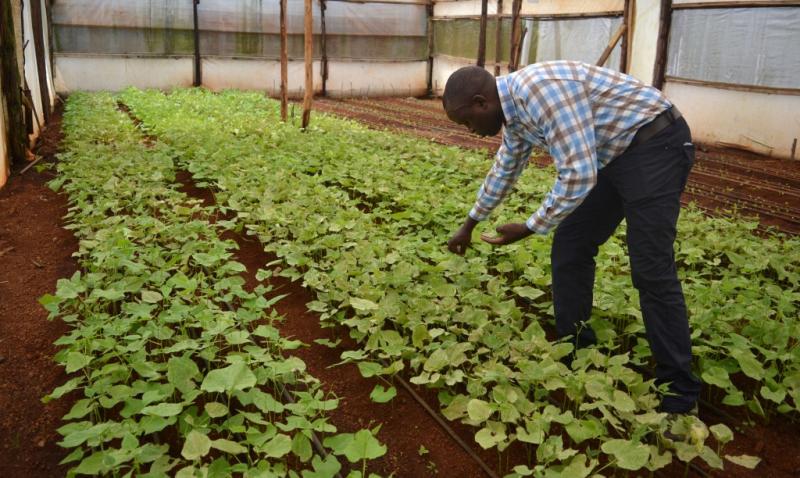 In a corner of his office, white containers bearing scientific names are neatly arranged on a table.
The containers, John Mbauni, a production manager at BioProduction Kenya Ltd, a subsidiary owned by Lathyflora, a flower farm in Red Hill in Kiambu County, says they habour a success story that does not only colour his resume as an accomplished horticulturist but also goes down in the company's historical records as one of the best decisions made in its production journey.
Lathyflora which grows ornamental plants for propagation for export to Europe, Canada and the United States of America embarked on using biological organisms to control pests in its farms in their efforts to get rid of harsh chemicals seven years ago.
Though not a new concept, Mr Mbauni points out that the tedious and expensive process of producing the microorganisms has for long made many growers shy away from exploring this route.
"Integrated Pests Management (IPM) has been there for decades but many growers hadn't managed to conceptualise and internalise it. We have been using the conventional means but realised the insects were becoming smarter which called for a smarter way of dealing with them," says Mbauni.
Before they started producing their own microorganisms, Mbauni says they bought them from other companies that produce them but this became too expensive for the company.
With a background in microbiology, he embarked on breeding the insects commonly known as 'dudus' and after a few trials and errors, he managed to get a solution to a nightmare that many growers who export produce to the European market have grappled with for decades.
"European market has also imposed very tight restrictions on produce which also motivated us to explore other ways of dealing with pests. We also realised with the insects becoming resistant to chemicals, we needed to adopt new strategies and the best answer was to mimic the environment in which they thrive in," he explains.
According to Mbauni, the "dudus" take seven to 21 days to breed. For the last two years, Lathyflora has managed to produce enough for use on the farm and surplus for sale.
Sylvester Kahoro, a production manager at Fairy Flowers, a sister company of Lathyflora flower farm says using biological means has also brought down their cost of crop management by about 60 per cent. The quality of the cuttings has also improved which means fewer complaints from buyers in Europe.
"Less chemical use means a healthy workforce which is any employer's dream. IPM isn't easy to implement at first but once you get it right, the benefits trickle down all the way to the buyer, we no longer get as many complaints as we used to from buyers which means there is something we are doing right," adds Kahoro.
In addition to being smart in pest management, the company has also embraced 'smart' and sustainable ways of dealing with social challenges. The farm uses a digital tool - CSR Africa portal to monitor and manage social and environmental issues they face in their day to day operations.
According to Maina Wambugu, from Ufadhili Trust, the online tool allows flower farms to get instant results on their social performance by just logging into the portal.
Some of the issues being monitored are gender equality, harassment, wages, and social security, health and safety, overtime, freedom of association and water use.
Related Post