Groups eye nutritious, cash-minting food crops
By Titus Too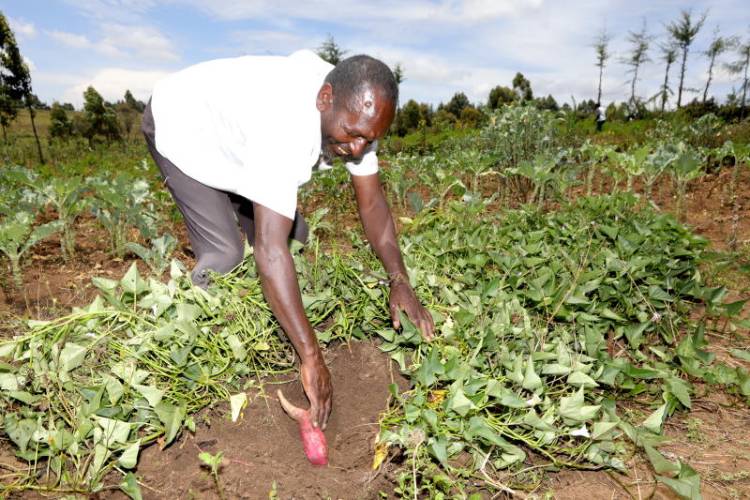 Crops could be the next stop for small-scale farmers who target high nutritional value and regular generation of income.
Some small-scale farmers in parts of Uasin Gishu are eyeing fortunes from the indigenous African crops, whose demand in the market is also growing as opposed to maize and wheat that is planted once a year and with poor market.
The farmers through registered groups are diversifying into the crops to boost their economic standards due to growing demand for the produce by consumers in the market.
They are slowly shifting from reliance on one season crops that are planted in large scale at the onset of long rain season every year, in the region best famed as the country's food basket. They use extra small parcels of land for the production of the indigenous crops.
Through an initiative dubbed Mlo Mashinani (food at grassroots), the farmers are put into registered small groups and given starter root stock seeds for sweet potatoes, arrow roots, pumpkins, beetroots, carrots, long cayenne and potatoes, among others, that mature in three months.
Apart from maize and wheat, dairy farming has also been predominant in the region, but some farmers are eyeing new agribusiness ventures owing to the declining earnings in the sub-sectors they have been practicing for years.
Mlo Mashinani seeks to expand diversification to enhance food security in Uasin Gishu County, where farmers solely rely on maize as staple food but lack essential components like vitamins and micro-nutrients found in the indigenous crops.
"For years, I have been earning low income due to dependency on maize and wheat farming, but with production of short season crops, I can harvest sweet potatoes, pumpkins, carrots and arrowroots thrice a year. The produce provides nutritious food for my family and surplus for income," said Jonah Borborei.
Borborei, a farmer from Olare in Ainabkoi, Uasin Gishu, said through Mlo Mashinani, farmers have been sensitised on new skills in cultivation of crops that mature early, generate regular income and improve nutritious diet in households.
He said through the initiative, the surplus of their produce are marketed in Nairobi and Mombasa and have empowered them economically.
"A Savings and Credit Cooperative Society (Sacco) mops up produce from farmers in groups for marketing, thus protecting them from exploitation by middlemen," said Borborei.
He was introduced to sweet potato cultivation last October and generated Sh12,000 from his small portion of land within three months.
"I am yet to generate income from beetroots, pumpkins and arrowroots. I have already generated Sh12,000 from sweet potatoes in three months and I earn Sh600 every two weeks from pepper," said Borborei.
Zipporah Mengich, another farmer, said what they have earned from the venture has enabled them educate their children and urged more women to enroll in the registered groups.
"Women are faster in adopting new methods of farming. We appeal to men to allow them portions of land to enable them to tap their potentials through agribusiness," Mengich said.
Mlo Mashinani is an initiative started by Uasin Gishu businessman Zedikiah Kiprop Bundotich popularly known as Buzeki through his Buzeki Foundation.
"We have a lot of arable land that is idle in Uasin Gishu yet we are food insecure. Compared to other regions, productivity per acre is far much higher in Central, Nyanza and Western Kenya," Buzeki told Smart Harvest.
He added: "We target more women registered groups in this catalyst initiative and their response has been good with more than 4,000 already covered and we target to reach out to the entire county. We encourage use of organic manure to have produce that are free from chemicals."
He said the groups have extension officers who guide the farmers and also monitor production processes. Farmers, he said, enjoy economies of scale and are offered good prices for their produce that is ferried to Wakulima market in Nairobi through Tai ole Tai Sacco.
Charity Kosgei, Mlo Mashinani project manager, said tuber seeds of sweet potatoes are sourced from Murang'a.
Related Post